Ariel Adventure Time Fan
Ariel is the biggest Adventure Time fan ever and she watches her favorite cartoons all the time! Finn, Jake The Dog, Marceline The Vampire Queen or Princess Bubblegum are amongst her favorite characters and she never misses an opportunity to have fun times alongside her favorites. She loves them so much, in fact, that she has decided to take part in an amazing challenge, reserved only for the biggest Adventure Time fans ever. Do you like Adventure Time and would you like to help Ariel complete her challenge? Play our brand new and exciting game called Ariel Adventure Time Fan here on our website and start by dressing up beautiful Ariel as one of her favorite characters. Would you like to see her as Princess Bubblegum or maybe as Flame Princess? How about mixing and matching the two styles? Whatever you choose, make Ariel look gorgeous and then go ahead and help her complete her challenge. Browse the room to find the ingredients needed for Ariel to create cute Jack The Dog. Once you find all of the potions and ingredients mix them all together and watch as Jack appears. Have a blast with this super fun game called Ariel Adventure Time Fan!
How to play Ariel Adventure Time Fan
Mouse to play the game.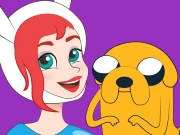 Play Game