Ariel's Underwater Salon
Disney Princess Ariel has just opened her underwater beauty salon and her very first clients are here to test her wonderful waterproof make up looks. She is so excited about it and she cannot wait to impress her friends with her make-up artist skills but she could use an extra helping hand. Care to be Ariel's assistant today? Come and join her in getting this brand new Disney Game for girls started and see what stunning looks you can put together for Aurora, Jasmine and Belle. Choose from a wide variety of colors the right ones to create outstanding make up looks and then go to the next page of the game and see what lovely mermaid looks you can put together to complete their looks with. Select a new hairstyle for each princess and don't forget to also accessorise their final looks. Have a blast playing 'Ariel's Underwater Salon' game!
How to play Ariel's Underwater Salon
Use your mouse to play the Ariel's Underwater Salon game!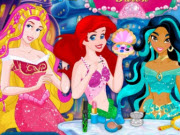 Play Game