Cake Shop Rush
You are running a cake shop and the clients love your delicious cake. Let's learn how to bake a perfect cake and decorate it according to your client's requirement. The less time you spent on an order, the more bonus you'll get. So work as fast as possible and see how good you are! Have fun!
How to play Cake Shop Rush
Use your mouse to play.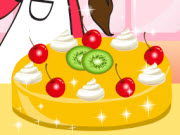 Play Game