cute_mouse_caring_and_dressup
This adorable mouse needs a total makeover and you are
going to offer much more than that. Play this mouse game and find out
how to take care of a little soul by bathing, arranging and feeding.
Clean him up and get ready for the hair salon challenge. Once the
hairstyle is done you will cook and serve delicious food. Complete the
mouse look with a fancy outfit and cool accessories.
How to play cute_mouse_caring_and_dressup
To play this game you must use the controller of the mouse.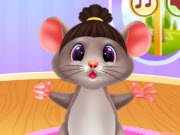 Play Game