Descendants Dollhouse Decoration
Today is the birthday of Ben. The only thing that will make the descendants happy is the get-together which they will have in the evening. So, your help is very much needed in decorating the doll house. For, the descendants have a custom of visiting the doll house whenever they have a celebration. You are the one who are going to add more beauty to the doll house. For a long time, they were not satisfied with the interior and outside decor. You give a surprise for them with your grand decoration. Drag things and put them in the appropriate place. Thank you so much for spending your precious time with us.
How to play Descendants Dollhouse Decoration
Mouse to play the game.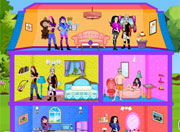 Play Game