Descendants Mal Manicure
Mal is having a First Day School party with her friends. She is getting ready for the party. But, she needs a perfect manicure for the party. Do you love Mal? Would you like to join the Descendants party? Then give the perfect manicure treatment for Descendants Mal. It is very easy, all you have to do is just follow the simple steps and complete the treatment. You can also beautify her by giving excellent colors and texts to her nails, sparkling rings on her fingers and finally amazing hand gears and awesome tattoos to her hands. Now, she looks very beautiful and Mal appreciates your assistance.
How to play Descendants Mal Manicure
Mouse to play the game.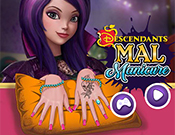 Play Game