disney debutante ball
Ladies, the super cute girls are ready for fun. At this years debutante

ball, Elsa, Merida, Snow White and Belle want to look really special

and cute. Each one of the four amazing princesses needs a glam new

dress and a cute hairstyle. Can you help them with your fashion advice

and ideas? In the new and amazing egirlgames.net game called Disney

Debutante Ball you will need to choose a cute look for each princess :

Elsa, Merida, Snow White and Belle! The first is the Frozen goddess,

Elsa. She needs a flowy dress with cute flowers attached, a braided

hairdo and the best diamond earrings for a great look. The other girls

will need a cute dress with great colors, such as blue or red and

magical jewels such as earrings or necklace to make them stand out from

all the other girls. Make sure the four princesses look amazing in

Disney Debutante Ball game!
How to play disney debutante ball
Mouse to play the game.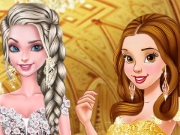 Play Game