Easy to Cook Buffalo Chicken Wings
Erika loves Buffalo chicken wings. Whenever she wants to have this delicious dish, she will go to hotel and taste it. But, today she wants to prepare this at home. However she needs your help in preparing this wonderful dish. Get ready with the ingredients in the ingredients page and move to cooking section. Now, just follow the simple instructions and you are ready with the Buffalo chicken wings. Erika is happy with your assistance. You can also prepare this Buffalo chicken wings at home with your parental guidance. Have fun.
How to play Easy to Cook Buffalo Chicken Wings
Mouse to play the game.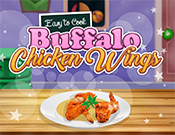 Play Game