Elsa Wedding Cake Master
Elsa becomes the most famous wedding cake master! She has so many orders from other Disney princesses and clients. Let's play this fun game and learn some kick ass decoration skills from Elsa. First make a 3 layer cake following the instructions in game. then decorate the cake with your creativity. Have fun working as a wedding cake master!
How to play Elsa Wedding Cake Master
Use your mouse to play.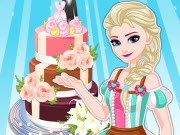 Play Game