Fairy Tree House
The flower fairies just built a new tree house. They need your help decorate the interior rooms. There are living room, kitchen, bathroom and bedroom. Use different furnitures and decorations to make the rooms functional and comfortable. Oh these fairy items are so cute and dreamy! Do you wish to live in a tree house like this? Play this fun fairy tree house decoration game and enjoy your interior design work! Have fun!
How to play Fairy Tree House
Use your mouse to play.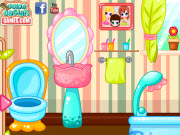 Play Game