Guess Who - papo world kids games
Play a different hide-and-seed game called Guess Who! Cute animal friends will play with kids and ask many funny questions like: Guess who is hiding? Guess who is upset?
This game is like concentration training to help your kid stay focused! Each question will need keen observation and memory.
If you are looking for quality parent-child time, this game is perfect! With the guidance of a parent, kid would feel like playing a real hide-and-seek game with dad and mom!
It is designed according to different ages. Whether for a 2-year-old toddler or a 5-year-old kid, it's easy to get started!
There are 12 animal cards. By flipping these cards, kids get to recognize 12 animals by their body features and names. By clicking the card, kids would get familiar with the sounds they make.
How to play Guess Who - papo world kids games
Tap to play.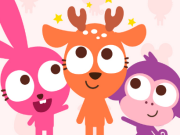 Play Game