Balls Vs Blocks Online
Who is the guide to escaping the endless area? Your finger! The

snake balls fall love with your finger, it can not be survived

without your finger. But whether you can help the snake live

forever? That's a question. It is in an unknown dimension

space, keep ahead, and break blocks one by one. Notice these

numbers on the blocks' surface, only your number is larger than

them, the snake can break it and go on moving, or it will die.

Are you ready? Try your best to survive your snake as long as

you can in Balls Vs Blocks Online.
How to play Balls Vs Blocks Online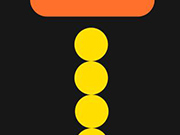 Play Game