Barbie's Holiday Plans
Barbie will be spending her first Christmas with her fianc?Ken and she wants to make sure that she will make it the most special Christmas ever. She has thought of the perfect plan for the holiday and she would like for you to help her prep up for the special night. If you would like to help Barbie create the perfect Christmas day for herself and for Ken come on and play this wonderful game called Barbie's Holiday Plans. Start by helping Barbie choose a wonderful gift for Ken. Should she give him a colorful snow globe, a sharp tie or an elegant pair of leather gloves? Choose the perfect gift and then go ahead and wrap it. Start by choosing a cute pattern for the wrapping paper and then go ahead and add a colorful and elegant bow or go for something different and choose fancy rope to wrap the gift. Add a tag to let Ken Barbie sends him her love and finally, dress up Barbie in a festive and glamorous outfit. Pick an elegant dress and then match a classy hairstyle to it. Add a fancy coat and finally accessorize the look. Enjoy Christmas alongside Barbie and Ken!
How to play Barbie's Holiday Plans
Mouse to play the game.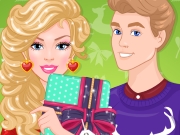 Play Game