Burger & Hotdog Stand
You just opened a hotdog & burger stand opening in your town. When people hear that your food are delicious, customers starts to flood in. How well can you manage? Let's play this Burger&Hotdog Stand game and find out! Work as fast as you could to earn more money and serve more customers. There are even three modes for your choice! Dare to try the Speed Mode? Let's get started!
How to play Burger & Hotdog Stand
Use your mouse to play.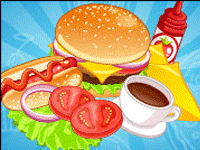 Play Game