Cute Fishtail Braids-H5
Jenny's hair tutorials have become very popular on the internet and she's trying her best to keep her audience happy with her videos. She was requested to make the step-by-step tutorial about the fishtail braids and she's finally ready to share it with you! Ready to discover the three cute braided hairstyles she has prepared for you?
How to play Cute Fishtail Braids-H5
Tap to play the Cute Fishtail Braids Game!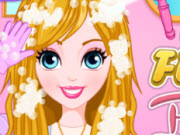 Play Game