Draculaura's Blind Date
One of your favourite Monster High ghouls, Draculuara, is now getting ready to spice up her love life just a bit and her best friends convinced her to try out sometime really fun! Today Draculaura is having a blind date and she could use a helping hand to organise it. First, you need to help her decide who should she date: Clawd Wolf and Garrott du Roque are the two handsome bachelors willing to date her. Once the main decision was taken you can help her prepare for the big day!
How to play Draculaura's Blind Date
Tap to play the Draculauras Blind Date Game!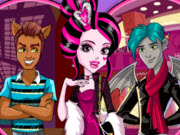 Play Game