Halloween House Decorator
Play our special Halloween Game, check out all the spooky props we've prepared at your disposal and then feel free to put your decorator skills to a major test and give your house the haunted treatment. Start by selecting your favourite style of house and then let the fun begin: lock the windows with old timber pieces, add some spider webs and some garlands with pumpkin or bat bulbs. A skull or a huge spider on the roof are needed for the haunted scenario as well as some flying creatures playing around. Don't forget to also decorate the yard with graveyard stones, lights and smoke for a really terrifying look. Next, you can invite some zombies, ghosts and cute little witches to play around.
How to play Halloween House Decorator
Tap to play the Halloween House Decorator Game!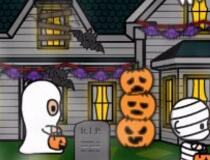 Play Game