Little Witch Beauty Machine
Little witch has a crush on the boy she met at school. She is not very confident with her look though, and she really wants to be the boy's dream type of girl. Is this possible? Luckily for her, she has this magical beauty machine which could allow her to choose how she looks! Start the beauty machine and select eyes, mose, face shape, body shape, arms and legs for her! Let's create many different looks and find out which one the boy likes! This could a happy ending, yet it could be really scary, too! Have fun!
How to play Little Witch Beauty Machine
Tap to play.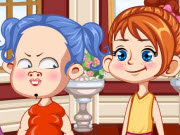 Play Game