Love Mission:Proposal
The boy and the girl has been dating for 2 years. They love each other so much. The boy is going to propose to his girlfriend! Help him match all the props like diamond rings, roses, gifts and love letters with the silhouettes on the game board. Work as fast as you could to win some precious time for this boy! Will she say yes? Is he going to make it? Let's play this puzzledom game and find out what happens for this love mission: Proposal!
How to play Love Mission:Proposal
Use your mouse to play.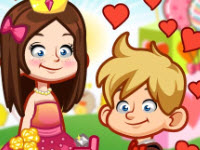 Play Game