My Cat Summer Holiday
Let's take my cute pet cat to the beach and have a nice summer holiday! There are so many fun activities to entertain my pet cat! How about surfing in the sea? Or taking a snap on the hammock, having a delicious ice cream, buliding a sand castle and playing ball on the beach! The most fun part is that you could dress up this cute cat with many funny accessories! Let's enjoy our summer holiday with my cat!
How to play My Cat Summer Holiday
Use your mouse to play.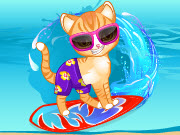 Play Game