nerdy girl fat to fit
Take the old shape back and help out this cute nerdy girl to find her inner look in order to begin to feel like herself again. You have got a special job in this girl game and not only that you will be her personal trainer at the gym, but you will be her guidance in the dressing area as much in the spa treatment you are going to apply to her. Ensured by a nice environment this transformation game is one of the best.
How to play nerdy girl fat to fit
You need the mouse to exercise, create new outfits and apply spa masks.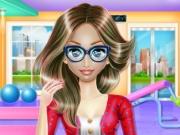 Play Game