Poppy At Spa
Poppy, the main character from Trolls it feels disappointed because it is unpaired,

unpainted, and facial skin has all sorts of imperfections just like bubbles on her face, which is

why she asks you to help her with professional cleaning solutions so it is again the most The

beautiful Trolls. For that you have to wash it, then use your makeover tools to embellish it.

Moisturizing creams will help her regain the shine again, and so Poppy will become happy in the

spa you are managing.
How to play Poppy At Spa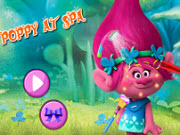 Play Game