Princess Carpool Karaoke
Hope you ladies are up to date with the Carpool Karaoke series because our new Dressupwho game is all about it. This time the host, James Corden, invites six of your favourite Disney Princesses to sing along to their representative songs as he is diving throughout the great fantasyland. Begin by choosing the princess you want to attend the Carpool Karaoke and then see what stunning look you can put together for her. Next you get to select a fantasy dress and some matching accessories for our funky host as well. Take the time to decorate the car as well. Hit the play button and linger around to see how they sing the chosen song in a lovely duet. Enjoy playing the 'Princess Carpool Karaoke' game for girls!
How to play Princess Carpool Karaoke
Tap to play the Princess Carpool Karaoke Game!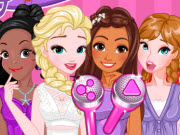 Play Game