Princess Dream House Decor
Princess Mona has a big house in the forest. She wants to design and decoration her house into a dreamy and beautiful princess house. Let's help her design the roof, choose windows and doors and decorate the beautiful garden. After the house is finished, she will have a great party and invite all her friends to visit. Help her dress up with her favorite lolita princess outfits and accessories! Have fun!
How to play Princess Dream House Decor
Use your mouse to play.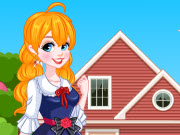 Play Game