Princess New Years Resolutions
2017 is almost here and three of your favorite Disney Princesses are putting together their New Years resolutions… are you curious which are their plans for the next year? Then hurry up to join them in and discover their big plans in the 'Princess New Years Resolutions' game for girls. Looks like in the new year Ariel wants to learn to cook so your first task will be to help her find a fashionable kitchen outfit. Elsa wants to use her spare time reading more and for that she needs some comfy outfits while going to her favourite library in town. There are some colourful pants, hoodies, shorts and t-shirts prepared at your disposal in her wardrobe… mix and match them and put together a geek-chic look to dress her up with. Next, get ready to discover Aurora's new years resolutions: she wants to sleep less and go to the gym more often. Will you go for leggings or shorts for her? Have a great time!
How to play Princess New Years Resolutions
Tap to play the Princess New Years Resolutions Game!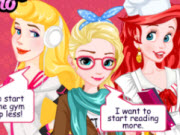 Play Game