Princesses Fashion Instagrammers
Help the Disney princesses keep up with the Instagram bug by playing the game Princesses Fashion Instagrammers! Belle, Jasmine and Rapunzel are such lovely fashionistas and having online presence is a must for them too. Now they have to keep up with Instagram and try new outfits so that they post something new on their profile. Play this awesome game Princesses Fashion Instagrammers and help the Disney girls post new lovely outfits on Instagram! Start the game with the princess you want and refresh her look by choosing a funky or a romantic hairstyle, trendy tops and bottoms, printed dresses and add a few accessories. After you choose the perfect outfit for each of them, take a picture and upload it on Instagram. Let's see which girl gets the most popular photo online! Each girl has its own style so make sure you make their look as adorable as possible with a romantic, modern or retro touch. The girls have so many followers and the comments will definitely be so much fun to read.
Have fun on our website and turn Belle, Rapunzel and Jasmine into the most fashionable princesses on Instagram!
How to play Princesses Fashion Instagrammers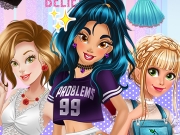 Play Game