Purple Pink Burger Shop
Purple Pink the Bunny opened a burger & hotdog shop and you are her business partner! Could you make the shop a huge success? Start the addictive time-management game!
Click, click, click! That's the way to prepare the food and serve your customers! It is very easy to operate, but you need to work a little bit faster! The goal is to earn as many coins as possible in due time and the secrets to success are speed and accuracy!
As you are getting better at cooking with levels increase, more ingredients will be unlocked! Lettuce, cheese and ketchup! New ingredients will make your food more profitable, yet at the same the difficulty will increase, too!
Provide fast and accurate service will be rewarded with stars for each level. Collect enough stars to unlock the Fever Mode! Complete the challenge and DOUBLE your profit!
Upgrading ingredients and appliances in the store will make it easier for you to get through levels! Better appliances will increase both the speed of production and the price of your food! Spend your profits on upgrades for in-store decorations, too! It would attract more customers for sure!
How to play Purple Pink Burger Shop
Tap to play.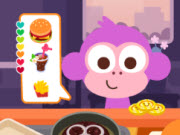 Play Game