Purple Pink Fruit Pie
Purple Pink the Bunny has the best fruit pie recipes! Which fruit pie is your favorite? Apple pie, cherry pie or strawberry pie? It would taste even better if you cook it yourself! Prepare your aprons now, little chefs! We are about to make the world's best fruit pies!
We all know how much kids love to play cooking games. Here are 6 classic fruit pie recipes: apple pie, cherry pie, pineapple pie, pumpkin pie, blueberry cheese pie and strawberry pie for their choices! The operations are very easy for kids. Follow the guidance step by step, Purple and Luca will be there to assist.
Start from making a perfect pie crust. Mix flour, butter, milk and other ingredients. Then make the fillings with your favorite fruits. Decorate your pie with a variety of foodies like cream , chocolate, sprinkles and candy beans.
The best part is to share the pie with your friends! Let's get started to try all the recipes!
How to play Purple Pink Fruit Pie
Tap to play.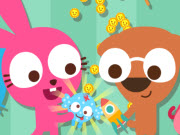 Play Game