Purple Pink's Sweets House
Click, click, click! Match, combine and merge! Start a sweet journey with Purple Pink the Bunny and friends in the candy land! Sweetest clicker game ever!
Sweet boxes keep coming down from candy heaven. Combine 2 of Purple's favorite lollipops, and boom! It becomes Luca's favorite ice cream! Full of surprises and giggles, you would never get bored! Could you get all 20 sweets? Merge, upgrade and purchase! There are various ways to speed up the process!
How to play Purple Pink's Sweets House
Tap to play.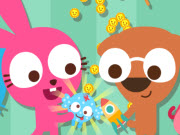 Play Game