Little Helping Hands
Prince Kaka and Princess Lele are preparing to host a party in their castle, but the castle is in a mess now! We need your little helping hands to organize toys and clothes in the living room, clean up the kitchen with the dirty dishes, and take care of the garden, too!
There are 6 rooms and places: garden, kitchen, bedroom, study, bathroom and living room! And 24 cleaning tasks like washing dishes, sweeping the floor, ironing clothes, and watering plants, etc.! Let's tidy them up so nice that they will sparkle! No rules and goals, play freely!
Work hard to get rewards! The princes and princesses will cheer up for you! Besides, you could get cute stickers with every 6 tasks completed! Try to collect them all!
How to play Little Helping Hands
Use your mouse to play.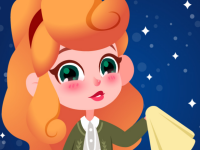 Play Game