Masha Halloween Preparation
Hi girls, this year Masha and the Bear is also in the race of Halloween preparation, so Masha is getting ready for the Halloween party. But, she is dirty because of the Jam day with the Bear. Can you help her in preparing for the Halloween party? Help the bear to clean the jam, dirt from Masha. Now, you can dress the Masha in the best Halloween costumes from her closet and give her a spooky look. Can you do it? Happy Halloween.
How to play Masha Halloween Preparation
Mouse to play the game.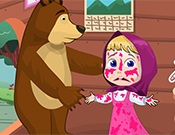 Play Game