Mini Burgers
Many people like burgers, it's great if you can do it by ownself!
Make burger steps:
1, You must ger tomato and onion, first courses ready.
2, Cut the meat to meat Meatballs, Fri meatballs to yellow.
3, cut the bread and heat.
4, Then we begin to make burgers with the things that we have been ready.
Have you learned? You can have a try now!
How to play Mini Burgers
Use your mouse to do it.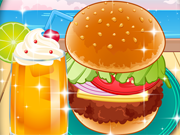 Play Game