Minion Girl Spa Day
This cute minion girl needs your help! She spent the whole day out play. When she comes back at night and she is a mess! Before going to bed, let's give her a nice and bubbly bath to get rid of the dirt. then she will need help brushing her teeth. At last, dress her up with cute dresses and accessories to make her adorable again! Have fun!
How to play Minion Girl Spa Day
Use your mouse to play.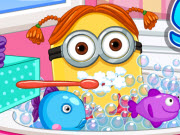 Play Game