Pregnant Sparkle Room Decor
Sparkle wants to decorate her room with perfect objects. As she is pregnant, she needs your help to decorate her bedroom. Do you love to help Sparkle? Then open up your decorating ideas and beautify her room with the perfect clock, cupboards, and decorative items. You can also give amazing colors to the room wall, floor, and roof. Have fun.
How to play Pregnant Sparkle Room Decor
Mouse to play the game.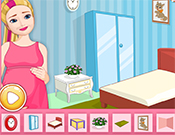 Play Game