princesses trick or treat
The great girls from Disney are looking for fun this Halloween. Elsa has a great idea and she wants to share it with all the girls. She wants to go trick or treating in the villains neighbourhood and I am sure it will be amazing. As you might know, for Halloween, each girl needs a costume. They have lots of ideas in mind, but they need you help with the final decision. Help them now in Princesses Trick Or Treat game and choose a fantastic look for Elsa, Anna, Jasmine, Ariel, Merida and Aurora. Check the closets and there you will find costumes from Maleficent, Elsa, Harry Potter, the Flinstones and witches costumes. In Princesses Trick Or Treat game try a wonderful Maleficent costume for Elsa, a nice witch costume for Jasmine, a Cruele de Ville look for Anna and a nice Hermione look for Merida. All the girls look amazing for this super cool holiday and I am sure they will enjoy the great night. Enjoy Princesses Trick Or Treat game!
How to play princesses trick or treat
Mouse to play the game.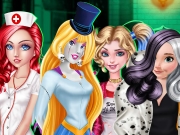 Play Game