Rapunzel's Halloween Snacks
Rapunzel wants to make some Halloween snacks. There are so many food and ingredients. Choose 3 of them to create magical snacks. If you successfully create a cute and delicious snack and feed it to Rapunzel, there will be Halloween surprises! But if you choose the wrong combination, it will become something disgusting. Ewwww...Check the Hint button if you need help! Have fun!
How to play Rapunzel's Halloween Snacks
Use your mouse to play.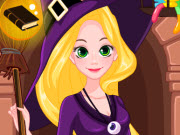 Play Game