restaurant kitchen cleaning
Oh no! Your kitchen from the restaurant is a total mess and
your customers are about to come. Get ready to handle a cleaning
situation in this makeover game and get to know the required processes
for a functional kitchen. You will be challenged with two dirty levels
and in the end, you have the great opportunity to create your own style
with a touch of futuristic and modern cooking devices for your kitchen.
How to play restaurant kitchen cleaning
Play this game by using the mouse controller.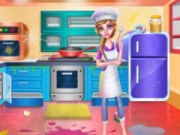 Play Game