Sweet Valentine Cupcakes
Here is a super cute dessert for Valentine dinner - sweet Valentine cupcakes. Let's play this fun cooking game for girls and learn how to make Valentine cupcakes. The baking part is easy: just mix all the ingredients and handle them rest to the oven. But the decoration part is important. No worries though, here in this game, we have lots of cute and romantic decorations to choose from. Enjoy the Valentine dinner and enjoy the sweet Valentine cupcakes!
How to play Sweet Valentine Cupcakes
Use your mouse to play.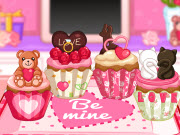 Play Game