Baby Beauty Competition
Baby always beautiful and stylish girl so she decided it would be great to join Beauty Competition. Not too surprised , Baby got to the finals. No matter what the result is, it is marvellous to take part in a beauty contest because that gives you the opportunity to be a model under professional hands. Spa, make up and dress up which accessories are the best ones to assort the chosen dress with and what type of make up would suit her best! So dare to step into a world of beauty and try this amazing experience of dream come true!
Use your mouse to play.
How to play Baby Beauty Competition
Mouse to play the game.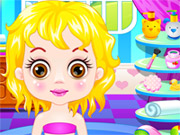 Play Game