Pomeranian Puppy Day Care
Yes, this is the game you were looking for if you want to have fun next to a fluffy adorable dog. If you did not know before, this particular dog is called Pomeranian and it has a lot of special treatment because of his appearance. And this is exactly what you will do in this puppy game; you will take care of his lovely fur and dress him up right after you will be giving him a long relaxing bubble bath.
How to play Pomeranian Puppy Day Care
Use the mouse to play this game.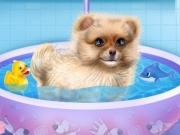 Play Game