Baby Cow Day Care
How cool it would be if you actually could take care of a baby cow, well you could and this is one of the reasons this animal game is the best. Not only that you will execute a treatment and interesting medical procedures, but you will also handle the outfit of this little baby cow that needs your guidance in the fashion area. Have fun and go through all the required steps to complete this challenge.
How to play Baby Cow Day Care
Use the mouse to play this game.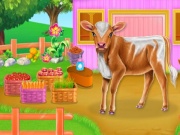 Play Game