Baby Elsa Easter Egg Hunt
Baby Elsa is preparing for the upcoming Easter. First she wants to create some beautiful Easter Eggs. Could you help her choose a cute pattern and paint the eggs? Then help her match a cute Easter's Day outfits with all these beautiful items in her wardrobe. Last the most fun part: Help Baby Elsa find the Easter Egg she created in her backyard! Have fun and Happy Easter!
How to play Baby Elsa Easter Egg Hunt
Use your mouse to play.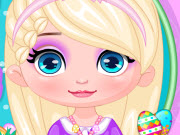 Play Game