Baby Princess Birthday Makeover
It's baby princess Julie's birthday today! Mom is preparing for her birthday party. All her friends will be here to celebrate. Could you help princess Julie to take a bath first? Take her to the bathroom and take a shower. After the nice bathing time, let's select a cute birthday dress for her. How about a polka dotted green dress, or a cute hello kitty top and a bow shirt? There are so many beautiful accessories to make her look a real princess! Have fun!
How to play Baby Princess Birthday Makeover
Use your mouse to play.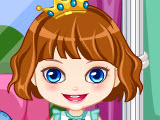 Play Game