baby princesses castle
Believe it or not you have been chosen to represent a princess wardrobe and design of the castle in this dress up game. First thing you have to do is to deal with the part where you customize the castle, try to create a royal atmosphere with colorful towers and cute flags. Once you are done with decoration you will be able to find a new outfit for this little princess. Make sure you choose a stunning one.
How to play baby princesses castle
Use mouse to dress up this princess.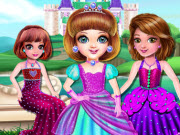 Play Game