Barbie Disney Babysitter
Barbie is the best babysitter. All the Disney princesses love her to take care of their babies. Today Barbie has 2 babies to look after. Let's help her! First we should have a comfortable bath for the baby. Then dress her up with nice and tidy clothes so she would look cute while out playing. Have fun and work as the best Diseny Babysitter!
How to play Barbie Disney Babysitter
Use your mouse to play.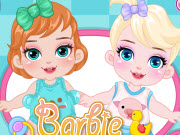 Play Game