Elsa Bathing Baby Santa
Elsa is trying to help Baby Santa to make a bath and we've through that you will be
interested to help Elsa in this washing game where the main character is Santa Claus when he was
a child. First we have to start the water into the bathtub, then please put there Santa's
favorite toys, then you can start washing him using the shower, a soap, a shampoo for babies,
then you will have to take the towel to dry him.
How to play Elsa Bathing Baby Santa
Mouse to play the game.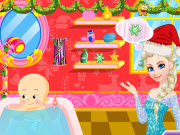 Play Game