Fairytale Cinderella Baby
Now girls, are you ready to show off your amazing baby caring skills in this brand new baby game on DressUpWho called 'Fairytale Cinderella Baby'? If so, then feel free to join us in and see if you can handle the very first task we've prepared for you and that is a super fun baby bathing session. Fill the tube with warm water, add some bath foam to make some colourful bubbles and wash then Cinderella's hair with delicate baby shampoo. In order to make this morning bath a more pleasant experience for our playful baby girl you could put in the tub her favorite toys to keep her very well entertained. Wash her body with shower gel, cleanse her and take her to the diaper changing station. Wipe her body with a soft towel, change the stinky diaper with a fresh new one and make sure to also apply some delicate baby oil in order to keep her skin very well hydrated. Next you can even dress her up in a cute baby girl outfit that you can accessorise with a sparkling princess tiara and the right pair of booties! Have an amazing time playing the 'Fairytale Cinderella Baby' game for girls!
How to play Fairytale Cinderella Baby
Use your mouse to play the Fairytale Cinderella Baby game!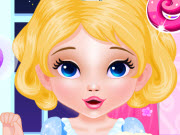 Play Game