Frozen Sisters Pinterest Diva
The Frozen sisters Elsa and Anna are both fashionistas. They are invited to attend the Pinterest Diva style face-off challenges, who do you think will win the title of "Pinterest Diva"? There are 4 styles in the challenge: homecoming queen, rock star, music lover and workout girl. Elsa and Anna will create 4 looks for these 4 styles and post their photos on Pinterest and see who will win the most likes. Let's play this fashion dressup game and find out who is the winner of Fashion Diva!
How to play Frozen Sisters Pinterest Diva
Tap to play.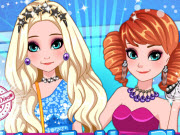 Play Game