Princess Bridemaid Makeover
There is going to be a grand royal wedding in the kingdom. The beloved Princess Emily is the bride and her little sister Princess Anita is her bridesmaid. Princess Anita really needs your help because she had never been a bridesmaid before. So here is the plan. First, Let's take Anita to the facial center to get a wonderful skin treatment. Then Anita needs a fabulous hairdo, too. The next thing will be a beautiful dress! Go to the dress store and pick out the most gorgeous dress for our princess. Don't forget to buy some nice accessories to complete the look! Have fun!
How to play Princess Bridemaid Makeover
Tap to play.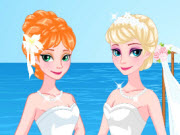 Play Game