Baby Moana Gets Tidy
One of the cutest babies out there needs a loving babysitter to take a good care of her and our exclusive baby game for girls is your chance ladies to prove that you are the right person to do it. Come and join her in getting the 'Baby Moana Gets Tidy' baby care game started and begin working out your baby caring skills by giving her a lovely bath. Use the ocean's waves and herbal made shampoo to wash her hair, then cure her sunburns, feed the little girl and play with her favourite colourful ball. Make sure you put her to sleep when she gets tiered and then when she wakes up dress her up in super cute baby outfits and accessories. Have fun!
How to play Baby Moana Gets Tidy
Tap to play the Baby Moana Gets Tidy Game!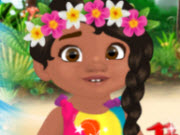 Play Game